A common question this time of year is whether to plant turf seed now and control weeds later OR to instead control the weeds now and then seed later. Here are my thoughts.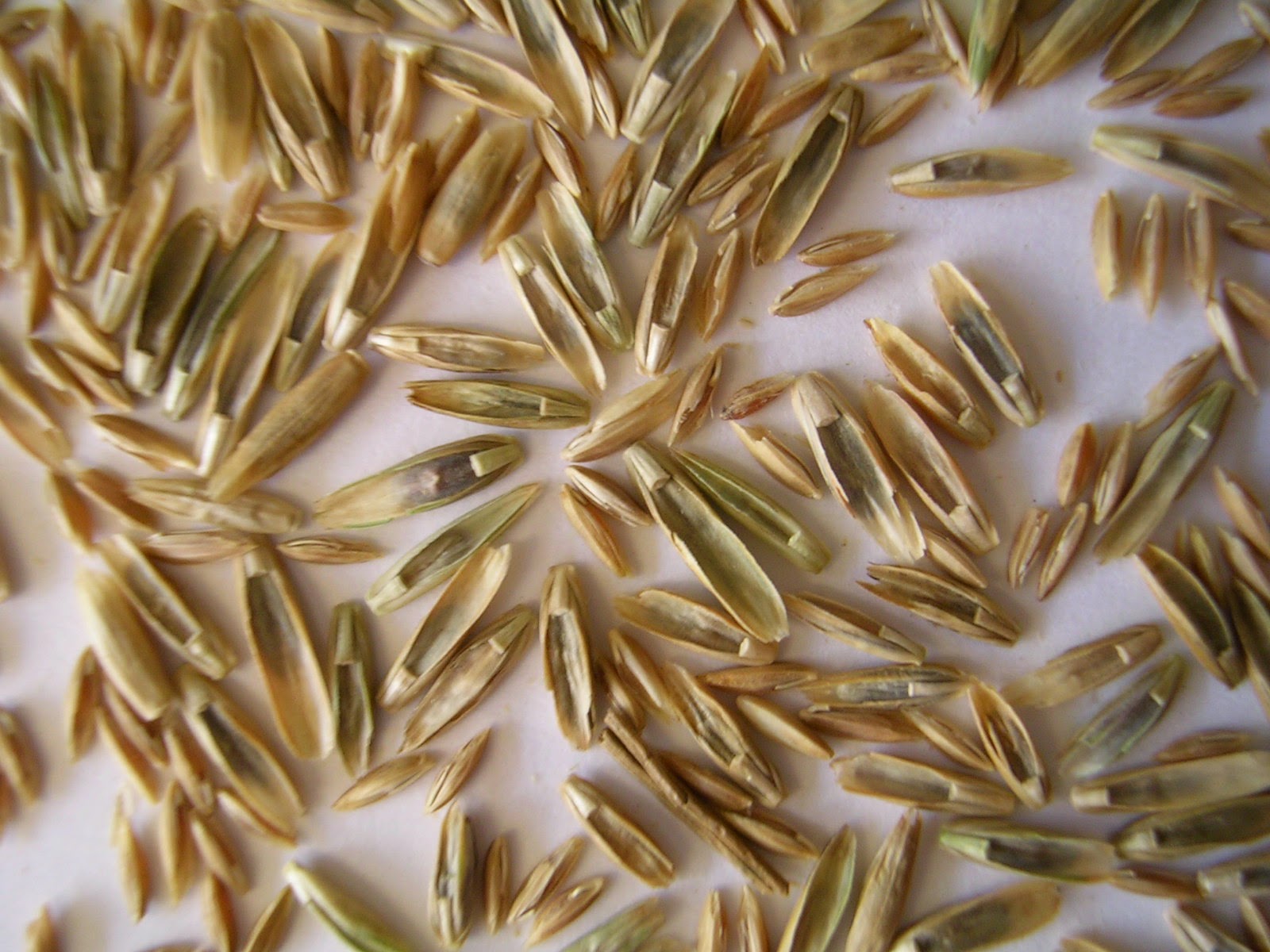 Cool-season turf seed mixture.
Option 1 for areas with mainly broadleaf weeds and a few annual grasses: Plant now and control weeds later.
The optimum time to control perennial broadleaves and germinating winter annual broadleaves is in October. As such, seeding in late August and early September should allow enough time for seeds to germinate, grow, and be mown twice (assuming you irrigate and fertilize these newly seeded areas) prior to an October herbicide application. You can delay the herbicide application until late October and early November if you get a late start on seeding or if your seedlings are slow to establish (like Kentucky bluegrass). Most broadleaf herbicide labels suggests delaying application until newly seeded areas have been mown twice. Some herbicide labels allow a shorter interval between seeding and an application. These shorter interval herbicides include Quicksilver, SquareOne, and Drive (shorter interval tall fescue compared to perennial ryegrass and Kentucky bluegrass).

Typical language about postemergence herbicide application delays after seeding turf.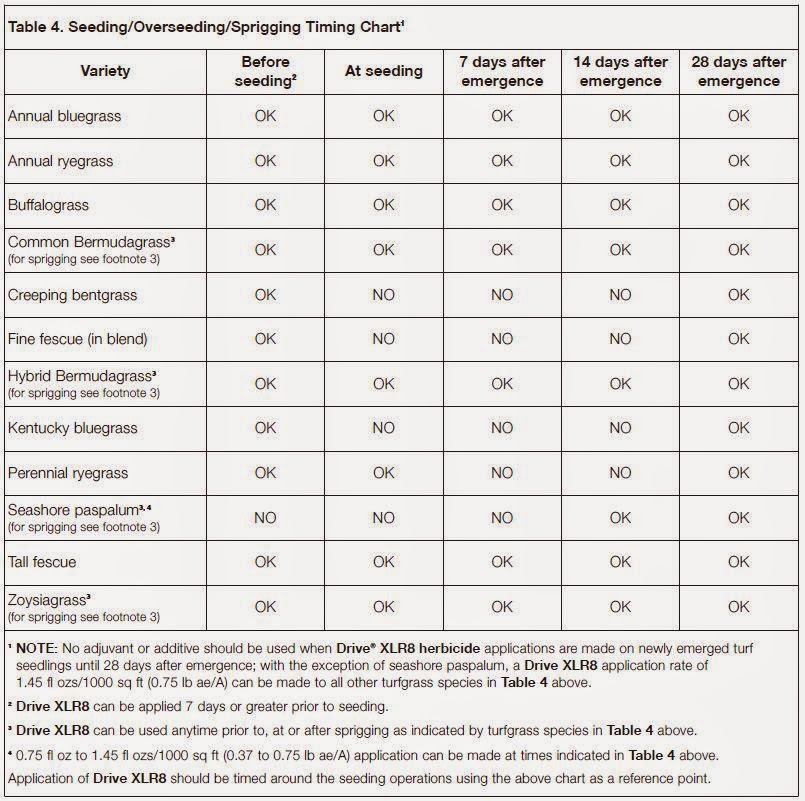 Drive XLR8 label instructions regarding application timing and seed and seedling emergence.
Option 2 for areas where you have lots of weed competition: Spray weeds now and seed tomorrow.
When there is a lot of crabgrass or broadleaf weed cover, then you would likely benefit from spraying the weeds now and seeding afterwards. Tenacity, Pylex, and SquareOne, and Drive are among the herbicides that can be applied today and allow seeding as soon as tomorrow (after the herbicide has had a chance to translocate in the target weed). Once the turf germinates, then follow the guidelines in option 1 above to provide follow-up weed control if needed.

SquareOne application instructions allowing seeding one day following the herbicide application.
Option 3 for areas perennial grassy weed competition: Spray weeds now and seed later.
When there are a lot of perennial grassy weeds such as quackgrass, fountain grass, etc., then your best bet to remove these perennial grasses before you seed as there are few herbicide options afterwards.
Best results with a non-selective herbicide like glyphosate are seen on perennial grassy weeds when multiple applications are made. Ideally, you would have started this process several weeks ago. Why? It is not uncommon for the weed to regrow from stolons or rhizomes (if a spreading grass) a few weeks after the first glyphosate application. One must allow the weed to regrow (wait at least three weeks) before the next application. At least two applications are recommended, but three or more may be needed. One must realize that the area will be dead and unsightly for a number of weeks or months if optimum control is desired.
Starting this process now, means that you won't be able to seed until after the optimum seeding window of August 15 to September 15. If you are still committed to renovating this year, another seeding option is to seed in December through March as a dormant seeding after you have finished killing your perennial grassy weeds. Learn more about dormant seeding by clicking here.
If there are only a small number of patches, spot applications can be made with glyphosate. Reseeding can take place a day or two following final herbicide application. Once the area has been infested with a large number of patches, killing the entire area will be most effective with multiple applications of glyphosate. Renovation can begin five to seven days following final glyphosate application. Refer to AY-13, "Lawn Improvement Programs" for information on reestablishment.
One caveat to the above, Option 3 recommendation, is that we have a few selective herbicides for perennial grassy weed control that might be options for use during turf renovation.
Table 1. Non-selective and selective herbicide options for controlling perennial grassy weeds in cool-season turf.
| | | |
| --- | --- | --- |
| Weed in cool-season turf | Non-selective herbicide option | Selective herbicide option |
| Bermudagrass | glyphosate | Pylex (topramezone), Acclaim Extra (fenoxaprop) |
| Creeping bentgrass | glyphosate | Tenacity (mesotrione) |
| Dallisgrass | glyphosate | No effective selective control |
| Field paspalum | glyphosate | No effective selective control |
| Fountain grass | glyphosate | Drive (quinclorac) and other quinclorac containing herbicides |
| Nimblewill | glyphosate | Tenacity (mesotrione), Pylex (topramezone) |
| Orchardgrass | glyphosate | No effective selective control |
| Quackgrass | glyphosate | No effective selective control |
| Rough bluegrass | glyphosate | Velocity (bispyribac-sodium) for golf courses and sod farms. |
| Tall fescue | glyphosate | No effective selective control, formerly Corsair (chlorsulfuron) |
| Windmillgrass | glyphosate | Tenacity (mesotrione) |
| Zoysiagrass | glyphosate | Pylex (topramezone)(based on preliminary results following labeled instructions for bermudagrass control) |
With any of these options, it is especially important to read the herbicide label and understand the application restrictions both before and after seeding and other application instructions (such as adjuvant and timing recommendations) so that you can maximize weed control and maximize turfgrass establishment.
For more information on weed control, search this blog and check out our Turfgrass Weed Control for Professionals Publication.
Aaron Patton, Turfgrass Extension Specialist