The 2015 Rounds 4 Research auction is now open. The auction will run from June 8 to June 21 with proceeds going to support turf research at Purdue and in Indiana through the Midwest Regional Turf Foundation, advocacy and education programs for the benefit of golf course management professionals, golf facilities and the game.
This fundraiser offers great golf deals and access to exclusive golf courses in Indiana and the nation. 33 foursomes were donated in all in Indiana. So, tell your friends, family, and community to bid on these rounds. Let the bidding begin!
Bid Online Now (https://www.biddingforgood.com/auction/auctionhome.action?vhost=eifg)
 
If you have any questions, please contact the Rounds 4 Research team at mwright@gcsaa.org or 800-472-7878.
Thank you for your support!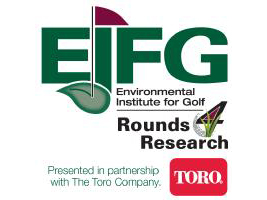 Aaron Patton, MRTF Executive Director
Ryan Cummings, Elcona Country Club Golf Course Superintendent and MRTF Rounds 4 Research Coordinator