Weather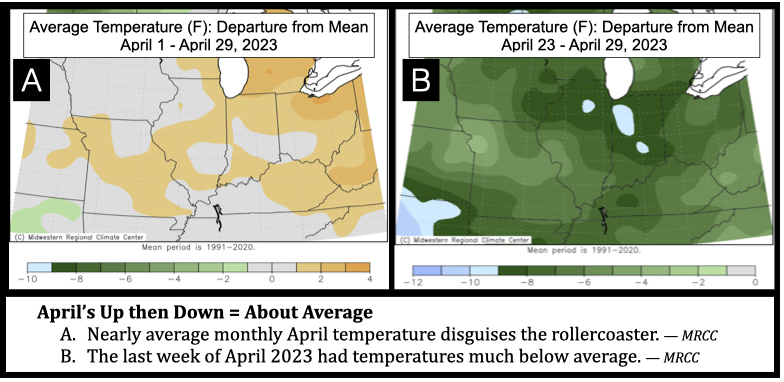 Although the monthly average will be in line with history, April temperatures were a wild swing of early highs and late lows that met in in the middle. In Indianapolis, the historical average for April is 53.6℉ and the 2023 average was 54.2℉. However, 7 days from April 1-15 were 10 degrees above average or higher, and 8 days from April 16 – 30 were 8 degrees below average or lower, tying a record low on April 24. Only six days in April were within three degrees of the historical average daily temperature for that day in Indy. To our south, several instances of warm-season winterkill have been caused by these types of wild temperature swings in both winter and spring of 2023.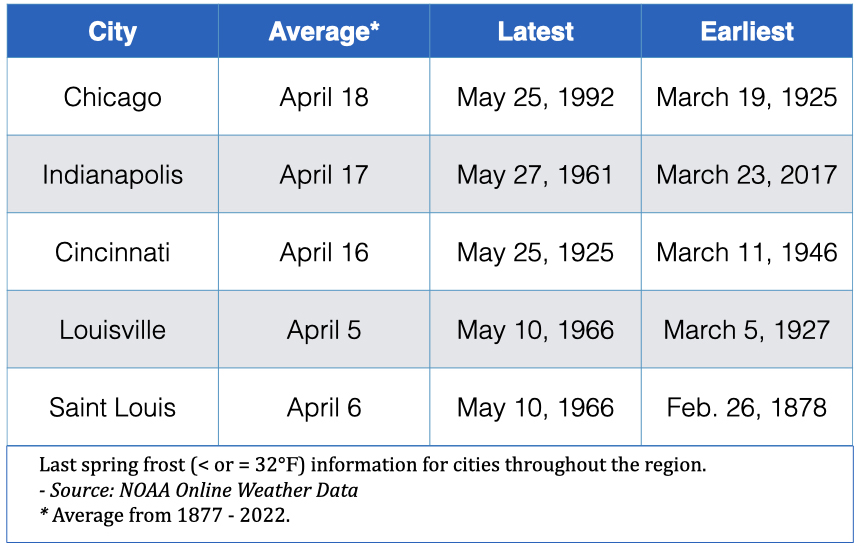 The average, maximum, and minimum dates for the last frost of 32℉ are shown for several cities in the region in the table above. Odds are that in IN, IL, KY, and MO the last spring frost of 2023 has passed. Since 2000, Chicago, Cincinnati and Indianapolis have had three May dates recorded with a minimum temperature below freezing, and Louisville and STL had none. Aside from the potential in low lying areas tonight, the forecast doesn't promise any steep temperature drops and frost events, so for many it's time to plant some plants.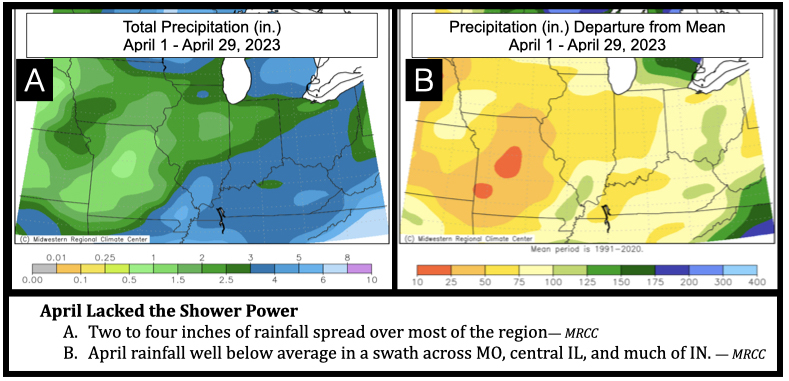 April showers were few and far between, with some areas in Missouri even experiencing an early spring drought. Two to three inches of April precipitation were common, which is well below the expected average (~ 4 – 4.25") and resulted in some necessary early irrigation, particularly on spring seedings. May is typically the wettest month of the year for Indiana and surrounding states, and some rebound is expected in next week's forecast. Temperatures are also expected to rise into the normal or above range (see below). All signs point to frosts being in the rear view, and the brake pedal being let off for steadily accelerating plant growth through the rest of spring.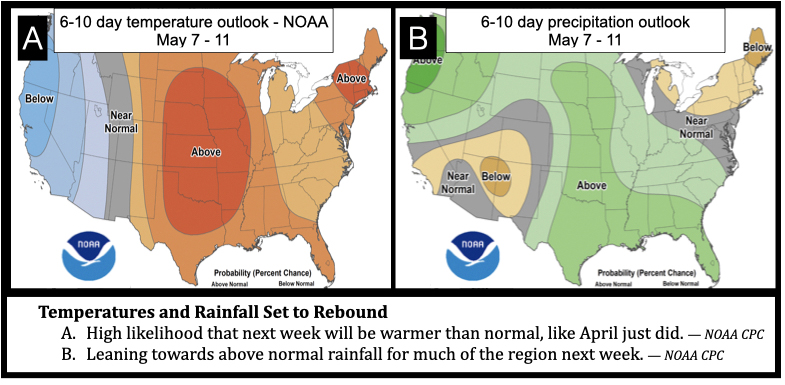 Lawns: Roughstalk Bluegrass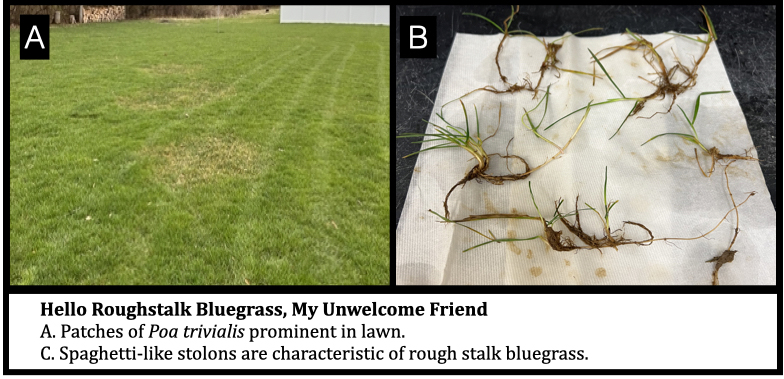 Contaminant patches of roughstalk bluegrass (Poa trivialis) will be more pronounced in home lawns over the next few weeks. Poa trivialis is a common weed contaminant in lawn seed, and once established patches spreading via aboveground stems, or stolons. During the spring, patches may conspicuously be bright yellow or early in the season display a winter leaf tip burn, eventually blending in as the season goes on. Unfortunately, roughstalk bluegrass is not tolerant to stress and will be the first to go dormant or completely succumb to the pressure of summer. For more information on identification and management of this troublesome weed, see this weed of the month submission from Drs. Aaron Patton and Leslie Beck.
Sports Turf: Iron Sulfate & Pesky Glufosinate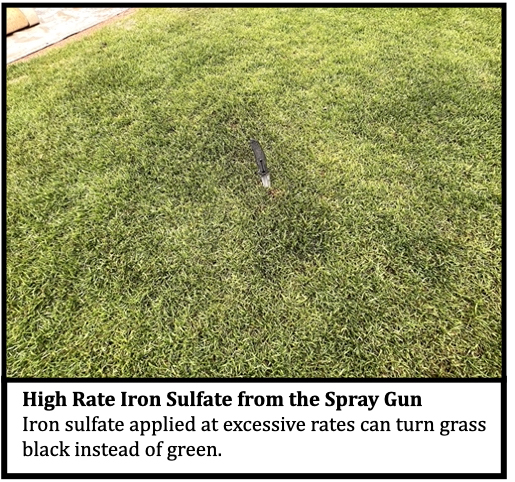 Application of iron sulfate can have a number of beneficial effects, including improved color and growth, reduction of pesticide injury, and disease control. Too much of a good thing though, is rarely a good thing. Overapplication can cause an obvious, and often disturbing, black discoloration. In the most recent case, iron sulfate was being applied with a single nozzle spray gun at too high of a rate. Fortunately, the black color, which can appear similar to a slime mold, should fade fairly quickly and little turfgrass damage is often realized.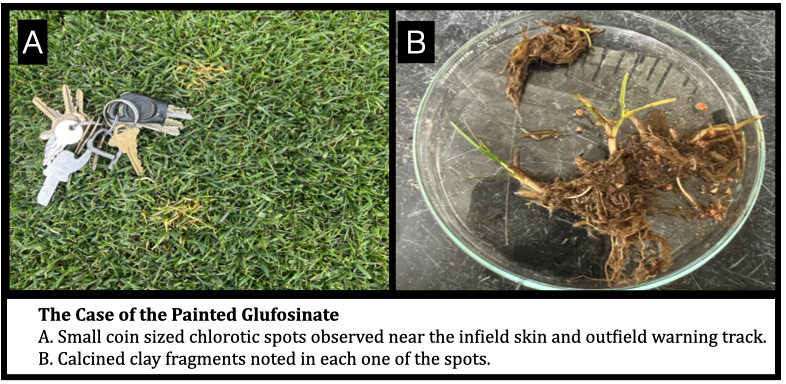 In another case, a baseball field was plagued with small chlorotic and declining spots scattered within a 5-10 foot proximity to clay areas. No disease was present, but numerous pieces of calcined clay from the infield were found interspersed throughout the sample. A few weeks earlier, glufosinate was applied to chemically prune Kentucky bluegrass volunteers from the infield skin and warning track. Since it was windy, the herbicide was painted on the plants with a cup and paintbrush instead of in a spray application. At this higher concentration, glufosinate on the clay particles was presumably moved by players who came out for practice a few hours later to the field in these small areas. In this instance, attempting to avoid wind drift of a non-selective herbicide ended up causing physical drift.
Golf:  First Trial of the Season Out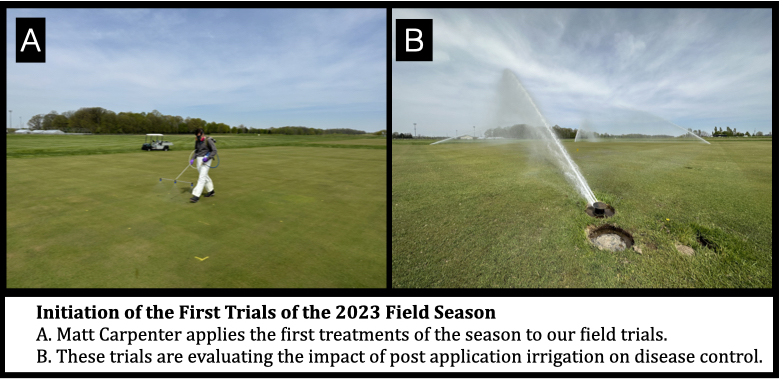 The first disease control trial of the season was initiated last week at the W.H. Daniel Turfgrass Research Center. This experiment is evaluating the impact of post-application irrigation on disease control afforded by 19 (!) different fungicide chemistries. In the spring, watering fungicides in after application on putting greens is recommended to drive the fungicides into the target root zone where soilborne pathogens have started to wake up after winter. This protects the spring investment of root growth for the challenging summer months ahead and ties preventive control to the biology of the pathogen instead of symptom development.
We don't know exactly how these early applications affect the development of foliar diseases such as brown patch and dollar spot. In the first year of the trial, we observed some of these fungicides such as Maxtima provided longer dollar spot control than others, while other fungicides such as Ascernity provided more long-lasting brown patch control. This second year will give a clearer picture of this dynamic and be tested in the different environment background of mid Indiana as opposed to mid Missouri.
The first application was timed based on the 55-60 F two-inch, 5-day average soil temperature threshold aimed to control fairy ring, with a subsequent application to be made 28 days later (April 27 & May 25). Soil temperatures were cataloged with a new tool we've developed in collaboration with the Midwest Regional Climate Center located here at Purdue. This web application outputs the Smith-Kerns dollar spot prediction model and soil temperature. The tool will be fully live and more widely advertised next week after a bit more beta testing and tweaking, but since you've made it to the end of the report, you get to see it first – Purdue Turf Disease Prediction Tool.

Lee Miller
Extension Turfgrass Pathologist – Purdue University 
Follow on Twitter:  @purdueturfpath