Doug Richmond
Associate Professor and Entomology Extension Specialist
Department of Entomology
Purdue University
Caterpillars are the larvae of moths and butterflies and several common species are capable of damaging turfgrass. This publication will help you detect and identify the most common caterpillars associated with turfgrass.
Armyworms
Armyworms are the immature stage (larva/caterpillar) of the several widely distributed moth species. Species most often associated with turfgrass include the common armyworm Mythimna unipuncta (Fig. 1) and fall armyworm Spodoptera frugiperda (Fig. 2) These insects are better known as pests of agricultural crops, but they sometimes infest turfgrass, especially in areas that border agricultural fields or unmanaged areas such as ditches or fencerows. Outbreaks in turf tend to be patchy and sporadic, but sometimes occur on a larger scale. As their name implies, armyworms may occur en masse and can migrate across large areas of turf, cutting it down to crown level as they go. Because they often go unnoticed while they are small, turf may seem to disappear almost overnight once these insects reach a larger size. Small patches of brown and overall ragged appearing turf are more typical symptoms. Fortunately, unless the turf is severely stressed by drought, it generally recovers well with irrigation or rainfall and adequate fertility.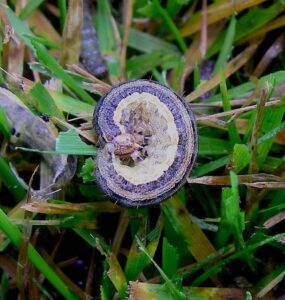 Figure 1.  Common armyworm with lengthwise brown, yellow and white stripes.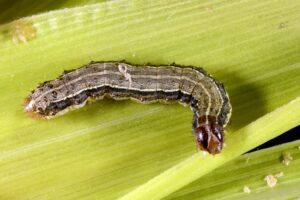 Figure 2.  Fall armyworm with lengthwise stripes and inverted Y-shape on head (J. Obermeyer photo).
 
Cutworms
Cutworms are also the immature stage (larva/caterpillar) of several moth species, but only two species are typically associated with turfgrass. The black cutworm Agrotis ipsilon (Fig. 3) is primarily a pest of closely mowed, golf course turf where it creates unsightly pock-marks or depressions in highly manicured playing surfaces. Black cutworm damage interferes with play and can be a serious nuisance to golfers, especially with regard to their "short game". The bronze cutworm Nephelodes minians (Fig. 4) is a more sporadic pest of lawns and low maintenance turf. Bronze cutworm has a penchant for feeding on turf under the cover of snow and damage from this insect is often unnoticed until after the snow melts and turf begins to green-up. Damage rarely occurs after mid-June.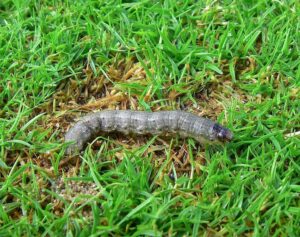 Figure 3.  Black cutworm caterpillar and damage on bentgrass.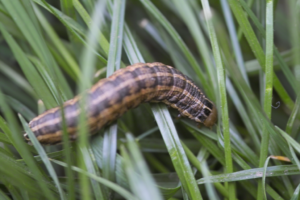 Figure 4.  Bronze cutworm caterpillar with alternating dark and light lengthwise stripes.
Sod webworms
Sod webworms are the immature stage (larva/caterpillar) of several small buff-colored moths that are common during the summer months. The moths are easily observed as they fly from the turf when disturbed, only to light again several yards away where they typically align themselves lengthwise along a blade of grass. They roll their wings close around the body when at rest and they possess an elongated snout that gives their heads a conical appearance. Adults do not feed, but mate and drop their eggs into the turf canopy during the evening. Larvae (Fig. 5) overwinter in silken tunnels and emerge in the spring to feed on grass stems crowns and leaves. Damage usually occurs in sunny areas and may appear as irregular, brown patches that take on a thin or ragged appearance during the summer. On short-cut golf course turf, overwintered larvae may attract attention due to their habit of knitting together small pieces of debris or topdressing material over the entrances to their burrows. Two to three generations of sod webworms may occur each season.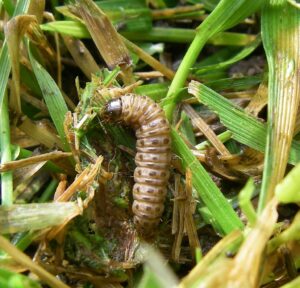 Figure 5.  Sod webworm caterpillar with rows of dark, square spots.
MONITORING AND DETECTION
Early detection of an insect infestation can be accomplished using a systematic approach that combines broad scale, coarse inspection of general turf appearance with fine scale inspection of individual plants or plant parts. If turf appears discolored or thin upon coarse inspection, examine suspect areas more closely by looking for feeding scars and tattered foliage. Probe the margins of damaged patches of turf by scratching through the thatch and looking for movement. Green fecal pellets also may be present and can be a good indicator for the presence of caterpillars.
The use of a disclosing solution (1 tablespoon of JoyÒ Ultra, DawnÒ Ultra or IvoryÒ Clear liquid dishwashing detergent in 1 gal. of water per 1 square yard of turf) poured over the surface of infested turf will encourage caterpillars to come to the surface where they can be collected and identified (do not use PalmoliveÒ as it may burn the turf). It is important to keep in mind that some caterpillars are only active at night and may be challenging to find during the day.