We continue to receive reports of spring-time turfgrass damage caused by raccoons or skunks. These animals are not feeding on the grass but rather are foraging for below ground, high populations of white grubs. As the vertebrates forage, they turn over great clumps of turfgrass resulting in an area that resembles a war zone.
Sometimes high populations of grubs can be reduced by using insecticides during the spring-time. Such insecticides should not be applied to control grub damage but may be warranted if severe secondary damage occurs as a result of skunk or raccoon activity. Suitable insecticides include compounds with good contact/oral activity such as trichlorfon (Dylox) and carbaryl (Sevin). Remember, however, that if the vertebrates are hungry enough, they will forage for dead grubs as well as live. It may take several days or even a week for the dead grubs to decompose enough to reduce their attraction to vertebrates. During this period of time, the turfgrass may continue to suffer nightly decimation. Direct control of the vertebrates is usually the preferred management tactic.
Raccoon and Skunk Management:
Raccoons are protected furbearers in most states, with seasons established for running, hunting, or trapping them. Most states, however, have provisions to control furbearers that are damaging property. Striped skunks are not usually protected, but the spotted skunk is fully protected in some states. Because legal status and licensing requirements vary, it is best to check with state wildlife officials before implementing any control procedures.
A number of techniques have been used in attempts to frighten away raccoons and skunks from various areas, but none are effective for more than a day or so. These techniques include the use of lights, radios, dogs, scarecrows, plastic or cloth streamers, aluminum pie pans, tin can lids, plastic windmills, etc.
A variety of materials have been used in attempts to repel these pests, again with a lack of proven effectiveness. These materials include blood meal, dog feces, mothballs and dirty laundry. There are no poisons or toxic gases available for raccoon and skunk control.
Live Trapping:
For most turf professionals and homeowners, live trapping and removal of the offending animal is the most practical approach to preventing the damage.
Raccoons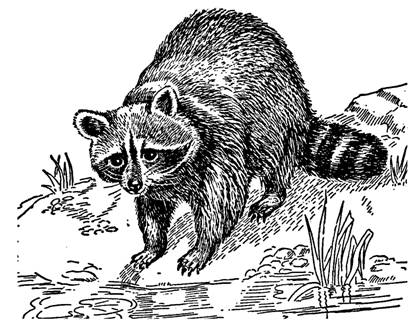 Raccoons are relatively easy to catch in traps, but it takes a sturdy trap to hold one. Traps should be at least 10 x 12 x 32 inches (25.4 x 30.48 x 81.28 cm) and constructed with heavy materials. Commercial models readily available for raccoons include the Havahart ™ Professional Raccoon Trap No. 1079; Nos. 3, and 3A; or Tomahawk™ Nos. 108, 108.5.
Some raccoons readily enter live traps upon first encounter while others remain wary of the traps for several days. Therefore, pre-bait the traps by placing baits in and around the traps and twist-tie the trap door open for 2 -3 days. This will allow the raccoon to feed freely and become accustomed to the " strange metal object that provides free food" and increase the success of capturing wary individuals. Disguising the exterior of the trap with wood or branches, bushes, or other natural items may entice the raccoon to interact with the trap.
Effective baits include sweet corn, sardines and other fish, cat food, melons, fried bacon, and cooked fatty meat. Tiny amounts of baits should be placed in a trail leading into the trap, with the major portion of the bait placed at the back end or closed end of the trap. When baiting for raccoons where pets are active outdoors, use jelly and honey as these baits are generally not attractive to cats and dogs, but work well for raccoons. Raccoons are also attracted to shiny objects. Adding a wadded up piece of aluminum foil in the trap may help to stimulate their curiosity and attraction.
Raccoons have agile, elongated "fingers" which allow them to pry open lids of garbage cans as well as steal baits through the sides of some traps. To prevent this, place logs, stones, or similar objects around the sides of the trap to create a barrier between the bait and the raccoon (the Havahart Pro™ Raccoon model is specifically designed to prevent bait theft). Sometimes, raccoons will tip over cage traps and shake out the bait, so traps should be staked down to the ground or attached to some nearby object with wire.
Place traps in areas of greatest activity. When raccoons are visiting sod lawns from wooded areas, they tend to follow well establish trails that offer protection, such as fence lines, building perimeters, and trails beneath available shrubbery. Try to identify such areas and locate the traps along these trails.
Skunks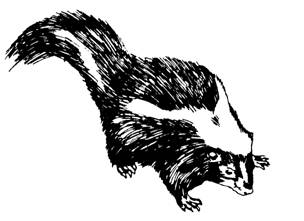 Skunks can be live-trapped using the same methods and trap sizes as described above for raccoons.
Fish (canned or fresh), fish-flavored cat food, chicken parts, bacon, or peanut butter on bread are effective baits. The trap should be set in the areas receiving damage. When placing traps in open areas such as on fairways, leave both doors open to allow the trap to accommodate an animal approaching from either direction.
If skunks are kept in a darkened trap they will remain relatively calm, and be less likely to spray (release their scent). Therefore, cover traps prior to placement with an old blanket or piece of thick burlap. Handle trapped skunks carefully and avoid sudden, jarring movement or loud noises that may frighten the skunk. Striped skunks seldom spray when these precautions are taken, but the spotted skunk is less predictable.
Vertebrate pest management professionals should be contacted as to the proper procedures of handling trapped skunks. Some state wildlife agencies advise against relocating skunks as they may present a problem for others, or they may pose a health hazard -skunks are one of the major carriers of rabies. In many locales, trapped skunks can be brought to the local animal shelter for proper handling or possible disposal procedures.
Tim Gibb, Turfgrass Entomologist