There are a lot of wet areas out there right now as pockets of Indiana have received more than double their monthly expected rainfall. Rain is a good thing but as we know it is possible to have too much of a good thing. Saturated soils reduce turf health and cause issues related to mowing and maintenance (see previous turf tips linked below).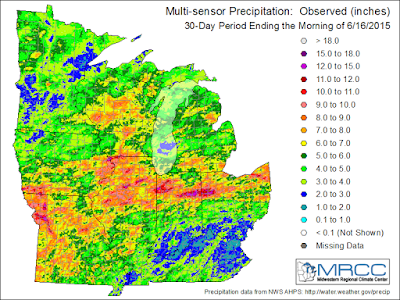 Last 30 days of rainfall.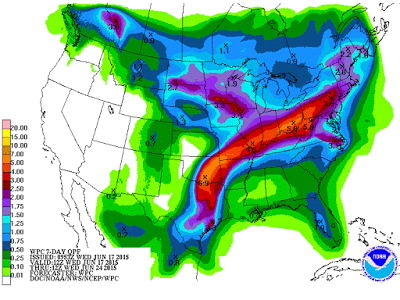 7-day rainfall predication from June 17 to June 24, 2015 most of the rainfall here is due to Tropical Depression Bill.
Despite our wet period now, the models suggest that Indiana's summer will have average precipitation with average temperature. The "EC" in these June, July, and August maps highlight that our summer has an equal chance (EC) of being wet or dry and an equal chance of being colder or warmer than average which is a prediction of being an average summer. See this link for a more detailed explanation.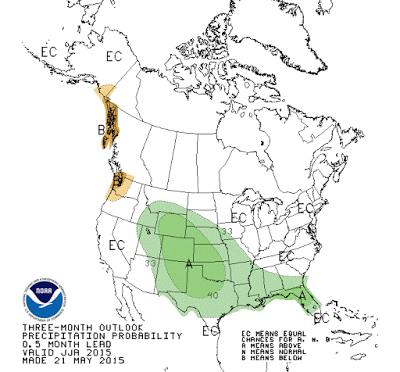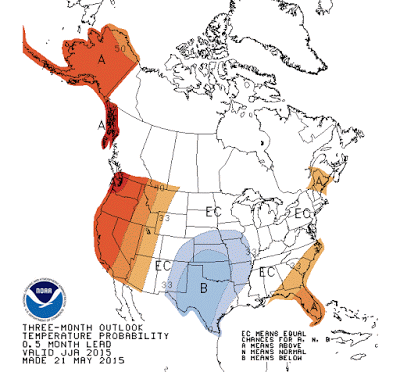 Despite the current rain we need to remember that we will likely encounter some temporary or periodic drought this summer so don't be too quick to wish all the rain away as you might be wishing for some rain later this summer. Short wet and dry cycles are good for turf as it promotes deeper rooting in turfgrasses. This is why we recommend deep and infrequent irrigation. As the summer progresses we will continue to provide you information on turf management and how to adjust/alter your maintenance practices to improve your turf care.
More past turf tips related to rain/flooding:
How to Mow Now That it has Stopped Raining
Rain gardens and turf
Flooding on turf
Dealing With Flood Damage
Aaron Patton, Turfgrass Extension Specialist