Tips for Mowing Wet Turf
Sharpen your blades if you have not yet this spring.
Mow in the afternoon when the leaf blades are dry if possible to reduce clumping of the grass blades. However, it is fine to mow wet turf or mow during light rain.
Set the mower higher (especially if your grass is taller than it normally is when you mow).
If possible, use a side-discharge mower rather than a mulching mower as mulching mowers are prone to clogging.
Double cut the area if there were a lot of clippings or if the area was uneven after cutting.
If there are too many clippings (they sit on top of the turf after mowing), consider bagging the clippings and using them as mulch or compost.
If you are creating "muddy" tire tracks with your riding lawn mower, consider using a walk behind push mower to mow these wet areas. It is worth the extra effort to push mower an area in order to avoid making ruts in the soil and permanently damaging the turf.


Be careful not to turn too sharply when mowing wet areas. Use a push mower to mow until the area dries.

Muddy wheel tracks and permanent turf damage caused by mowing a wet area with a ridding lawn mower. to avoid this, use a push mower to mow until the soil dries some.

Lastly, make sure to clean underneath the mower deck after mowing when wet.
For more information on managing flooded turf areas, see this previous Turf Tip: Flooding on Turf
In the spring you may not be able to mow often enough to abide by the one-third rule. An occasional mowing that removes more than one-third of the leaf blade may be necessary during time periods with frequently rainfall and little to no long-term damage in turf health should result. However, your long term maintenance program should include mowing as often as needed to never remove more than one-third of the leaf blade in a single mowing.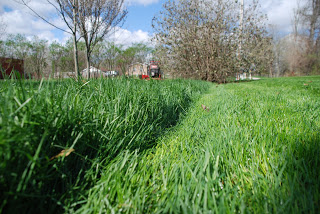 Removing more than one-third of the leaf blade. This was my lawn when I mowed it Saturday after a week of rain.
Dr. Aaron Patton, Turfgrass Extension Specialist