Although this past growing season across most of Indiana has been cool and moist this is no reason to consider skipping fall core cultivation or aerification. In fact, this abnormal weather pattern is actually more conducive to thatch accumulation since many of the microbes responsible for organic matter break-down are less active in these conditions. So hopefully sometime over the next few weeks most golf course managers will be aerifying to manage thatch and relieve compaction. The suggestions are intended to serve following are serve as a check list and provide some food-for thought as you prepare for this essential cultural practice.
Turf Health: Before initiating the process it is important to make an accurate assessment of your turf's health. If you have experienced stressful conditions (e.g. heat, excess moisture, drought or shade) your turf may possess a shallow root system or a decline in stand density. This will certainly affect some of your aerification decisions. About a week BEFORE you aerify it is wise to apply about ½ lb. of water soluble N. This will enhance turf growth in thin areas and encourage rapid recovery after aerification. Additionally, it is important to make sure your turf is hydrated and the rootzone is at or near field capacity. This will enable turf roots to take up fertilizer and again promote recovery. This can be accomplished by several soaking irrigation cycles a few days prior to cultivation. This is also an excellent time to take a soil sample and have it tested. If slowly soluble essential nutrients like phosphorous are lacking the can be installed into the rootzone where they can be most effective.
Tines: Assuming that the turf is healthy enough, most managers will be using hollow tines because they not only relieve compaction but also remove some of the thatch layer. If you turf is not healthy enough then solid tines should be used. These tines are less aggressive and result in less tearing but still allow for topdressing to be incorporated into the rootzone. The USGA agronomists suggest that a sound aerification program will impact at least 20% of the putting green surface area each year. Obviously the two factors that have the greatest influence on this are tine size and spacing, the following table provides information on exactly how much different tine x spacing arrangements impact the putting green surface.
Table 1. Volume of sand needed to fill aeration holes for various tine sizes and configurations*

Outside tine diameter (inches)

Spacing (inches)

% surface area impacted by aerification

Ft3 of sand required per 1000 ft2 to fill holes to a 3 inch depth

Pounds of dry sand required per 1000 ft2 to fill holes to a 3 inch depth

1/4

1 x 1

4.91 %

12.27

1227

 

1 x 2

2.45 %

6.14

614

 

2 x 2

1.23 %

3.07

307

3/8

1 x 1

11.04 %

27.61

2761

 

1 x 2

5.52 %

13.81

1381

 

2 x 2

2.76 %

6.90

690

1/2

1 x 1

19.63 %

49.09

4909

 

1 x 2

9.82 %

24.54

2454

 

2 x 2

4.91 %

12.27

1227

5/8

1 x 1

30.68 %

76.70

7670

 

1 x 2

15.34 %

38.35

3835

 

2 x 2

7.67 %

19.17

1917

*From: Aeration and topdressing for the 21 st century, O'Brien and Hartwiger, USGA Green Section Record, March/April 2003.
Equipment: Check your equipment before starting the process. Equipment that has been stored for a few months should be tested and checked to make sure it is not dropping oil, grease or gasoline during operation. A suitable place to test equipment is your nursery green or practice green. Properly functioning aerification equipment will remove a circular shape hole, not an oblong or egg-shaped shaped hole. Some of the factors affecting this are; improper ground speed (too fast) and poor aerifier tine penetration angle or equipment pitch. Circular holes heal more quickly and are less noticeable. Check your tines throughout the process and replace worn tines that are not doing the job correctly. Penetration depth is something else to consider. If you consistently aerify to the same depth every time it is possible to develop a shallow "plow-pan" like agricultural soils experience when cultivated to the same depth year after year. This layer will eventually restrict the downward flow of water and oxygen and ultimately have a negative impact on root growth.
Core removal? An often debated topic is "What should I do with cores following aerification?" In most circumstances on properly constructed new sand-based rootzones it makes sense to break up the cores, blow off the organic debris and leave the remaining sand in place to be worked back into the holes along with fresh new topdressing sand. After all, the remaining sand exactly matches the underlying rootzone materials. For older putting greens or those constructed from native soil, cores may need to be harvested and taken off site. This will enable you an opportunity to improve poor rootzone physical properties by amending with a desirable modern sand rootzone mixture.
Topdressing Sands: Proper selection of a high quality putting green topdressing sand is essential. This is NOT an area to try and save a few dollars in the annual budget! The sand used to fill aerification holes on putting greens should have the following characteristics: match the physical properties of the underlying rootzone (a medium/coarse sized sand is most beneficial, avoid sands with significant fines), be clean and weed free, preferably dry and flowable. Many golf courses are now installing sand silos (see photo) that enable them to keep kiln dried sand in a safe place and easy to load into topdressing spreaders. Should my topdressing sand be mixed with peat or not? My personal experience has been that unamended sand will fill the holes easier and adding unamended sand will not negatively impact rootzone physical properties. Furthermore, the peat moss has a tendency to float following heavy irrigation or rainfall and clean-up can be a nuisance. The advantage to using dry sand to back-fill holes is that it flows easy and has less of a tendency to bridge at the rootzone surface. This will allow you to fill your aerification holes as completely to the top. This process will probably be easiest later in the morning after the dew has dried off the surface. When properly filled, these aerification channels will continue to encourage air exchange, promote fall root growth even though the canopy is completely healed over.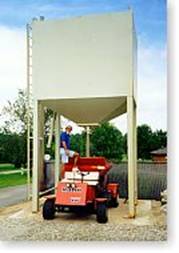 Photo: Sand Silo from Claymont Distributors, Inc., 
Ballwin , Missouri
Post aerification care: There is no doubt about it aerification is a very stressful and abrasive procedure to the sensitive turfgrass plant. The following are some recommendations to help your turf heal as fast as possible:
Once the greens are aerified and clean, make sure they stay well hydrated. The addition of all of these new open aerification holes dramatically increases the exposed surface area and these sites are conducive to rapid desiccation. September typically has many crisp, clear, windy days with abundant sunshine. These conditions favor water evaporation and turf drying. A well hydrated rootzone also helps move water soluble nutrients to the roots and encourages recovery. It may be necessary to hand water some drought prone areas throughout the healing process so be sure to have someone on "watch".
Roll the surface prior to the first mowing. Let's face it aerification equipment and tines are not perfect and not all turf is dense, healthy and well rooted. Slightly raised or heaved soil areas are a common occurrence. These areas can easily be scalped during your first post-aerification mowing. A water-filled roller or drum-style walking mower with its blades disengaged is an effective way to return the surface smoothness.
Raise the height of cut slightly. Typically for the first few days following aerification, the rootzone will be slightly softer and there will be remnants of the sand topdressing on the putting surface. Thus, it is not necessary to mow at your typical maintenance cutting height. Raising the mowing height puts less stress on the turf plant, and minimizes any potential scalping. It also allows some of the sand topdressing to further filter into the turf canopy. You may want to consider mowing when the turf is dry to minimize caking on the front mower rollers and skip the perimeter or clean-up passes for the first mowing or two. This will allow those chronically stressed areas to become firmer before they are mowed.
Summary: Although nobody cares for the unsightly damage and less than spectacular playing conditions immediately following aerification, it is crucial that you educate your membership/players on the agronomic benefits of this cultural practice. The stimulation of new root growth and removal of excess organic matter/thatch are crucial to the long-term health of any heavily used putting green. If they want to maintain excellent playing conditions throughout the season these few days in spring in fall are a small sacrifice to bear. When properly planned and conducted an actively growing turf should return to normal or better condition within 5 to 10 days. Good luck!